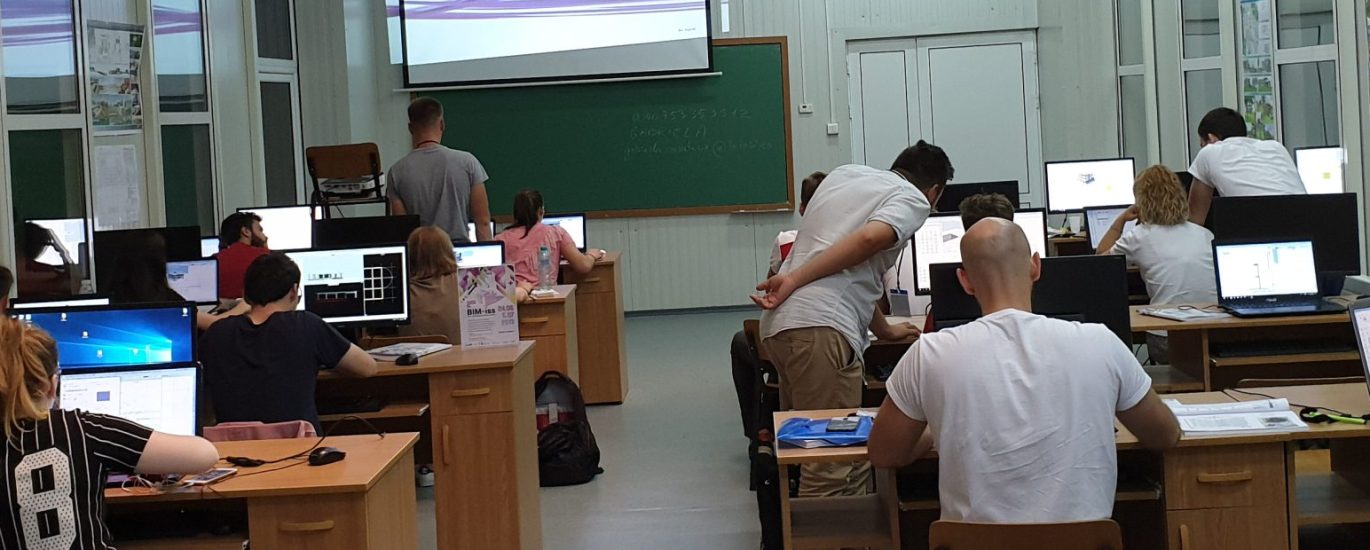 Registration
Application process
To apply for BIM-iss2022, please use online registration form (click here). Registrations are open until 30th of June 2022.
After submitting your registration, you will receive a confirmation email from our coordinators regarding your registration.
---

Requirements

It is highly recommended for the civil engineer applicants to have basic knowledge of Strength of Materials and Structural Analysis (Structural Statics) or Building Services Systems.
However, no restrictions exist for students studying architecture.

Important dates BIM-iss 2022:
Registration deadline: 30th of June
Payment deadline: 1st of July
Accommodation reservation deadline: 20th of June
Final courses list: 1st of July
Check-in 10th of July
School start 11th of July
School end 24th of July
---
Applicants are asked to bring their own laptops.
If this is not possible, we offer a number of PCs in our laboratories on which the required software are installed.
All international students are required to have health and travel insurance from their home country prior to their arrival in Romania. This type of insurance has to be valid in case any health services will need to be used while staying in Romania. For students coming from the EU countries their EU health insurance card is valid under the stated terms and conditions.
---
The course fees are:
for Architecture, Civil Engineering & MEP Engineering course:
– 400 lei pentru studentii TUIASI
 
– 125 Euro* for bachelor, master and PhD students, professors
– 250 Euro* for engineers & architects.

pentru cursul de BIM Management
– 750 lei
How will be your days?
From 9 to 5, You will attend to lectures. You will have all that you need (water, coffee, snack, lunch), in order to be focused on learning all day long.
You will be able to learn a lot about constructions, about team work, about collaboration and of course, about BIM.

Cum vor fi zilele voastre?
De la 9 la 5 veți participa la curs. Veti avea tot ceea ce va este necesar (apa, cafea, snack-uri, prânz), pentru a vă putea concentra pe învățare toată ziua.
Veți putea să învățați foarte multe despre lucrul în echipă, colaborare, digitalizare și bineînțeles despre BIM.
---
We offer you the possibility to stay in Tudor Vladimirescu student campus which is close to a shopping centre at a distance of 20 minute walk from the course area.
After the payment of the course fee, every participant will get discount voucher for accommodation in Tudor Vladimirescu student campus at popular prices due to agreement between dormitory and hosting faculty.
A 20-minute walk distance is between the accommodation and the hosting faculty (you can check the map here).
Accommodation does not include breakfast. Separate registration is needed for reservation of accommodation, which is done until 31st of May 2018.
Accommodation options are: shared twin room or single room. In case of shared twin room, applicants can choose flat mate or flat mate will be randomly assigned. Optionally, students can be accompanied by one other person, who isn't taking any classes at BIM-iss 2022. Accompanying person is paying accommodation expenses. For shared twin room price is around 60 EUR [€], and single room is 100 EUR [€] for whole duration of the stay.
There are plenty of hotels near the University, for those who wish to have a different arrangement.

Contact: https://iss.ci.tuiasi.ro/contact/